4 DOUBLE BEDROOMS
All with a large En-Suite Bathrooms, Individual Outdoor Access & Smart Gadgets
OTHER ROOMS & FACILITIES
Smart Home Entertainment • Surround Sound • Outdoor Living

Master Bedroom Private Raised Terrace
The private terrace is the perfect chillout spot accompanied with a frosted glass of local Robola wine.

Outdoor Entertaining
With an extensive terrace to soak up the sun and admire the views, it is hard to imagine a more perfect combination.

Large Infinity Swimming Pool
The sloping pool includes heating, lighting and a jet massage area. Safety signage and life support ring are installed.

Indoor Living
The lounge & kitchen are centred together, with sliding doors leading to the shaded outdoor "al fresco" dining area.
LOCAL RECOMMENDATIONS
Beach • Food • Wine
The property has been inspected by the Greek Tourism licensing association.
EOT licence number: 0830K10000822501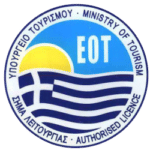 Spacious rooms & very clean
Spacious rooms, very clean, beautiful pool, easy access by car.
Absolutely Amazing
The View is absolutely amazing. You will find here everything you may need. The rooms are very spacious, the entire villa is very clean, the pool is large and clean, and the secluded location is perfect. So, the View has a perfect view.
Great Host!
Ben is a great host, and we love the villa, all we could ever ask for! I highly recommend it!