4 DOUBLE BEDROOMS
All with a large En-Suite Bathrooms, Individual Outdoor Access & Smart Gadgets
OTHER ROOMS & FACILITIES
Smart Home Entertainment • Surround Sound • Outdoor Living

Master Bedroom Private Raised Terrace
The private terrace is the perfect chillout spot accompanied with a frosted glass of local Robola wine.

Outdoor Entertaining
With an extensive terrace to soak up the sun and admire the views, it is hard to imagine a more perfect combination.

Large Infinity Swimming Pool
The sloping pool includes heating, lighting and a jet massage area. Safety signage and life support ring are installed.

Indoor Living
The lounge & kitchen are centred together, with sliding doors leading to the shaded outdoor "al fresco" dining area.
LOCAL RECOMMENDATIONS
Beach • Food • Wine
The property has been inspected by the Greek Tourism licensing association.
EOT licence number: 0830K10000822501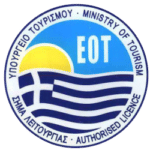 The View is absolutely spectacular!
The View is absolutely spectacular! The outdoor area is just wonderful. Ben and Claire have thought about so many extra little touches. Speakers and coffee machines in every room. Games for adults and kids which was great when it rained. I packed inflatables for the pool but they had some there to be used too. The gym equipment was a great surprise. My daughter has coeliac's and we arrived late and they had left us some gluten free pasta. The restaurant Ben recommended was amazing, the taxi guys he recommended were great and we used them all weekend. We would love to come back soon. It's hard not to have a nice time at the View.
Everything Wonderful!
Totul a fost minunat! / Everything was wonderful!
It was our 4th visit to this stunning villa
A wonderful 2 weeks staying at the View celebrating my 60th Birthday with family friends and a surprise visit from my son who has been living in Australia for 2 and half years ! It was our 4th visit to this stunning villa Ben was extremely helpful with any problems. I would highly recommend staying here any time of the year well worth it.
Absolutely Amazing
The View is absolutely amazing. You will find here everything you may need. The rooms are very spacious, the entire villa is very clean, the pool is large and clean, and the secluded location is perfect. So, the View has a perfect view.
The infinity pool is pure luxury
The villa was in an amazing spot with views over the sea. You do need a car or scooter to get up and down the mountain but that is easy to sort. The infinity pool is pure luxury. Just a fantastic villa all round.
Spacious rooms & very clean
Spacious rooms, very clean, beautiful pool, easy access by car.
Great Host!
Ben is a great host, and we love the villa, all we could ever ask for! I highly recommend it!
Nice villa with a great view
Nice villa with a great view.
A real winner!
A real winner! Fantastic location, amazing views, privacy, lots of room. We will come back!
Fabulous villa and views
Fabulous villa and views. Great location, close to lovely town of skala, with superb choice of restaurants in Skala, Kaminia beach and Katelios. The host, Ben was very attentive to our needs and questions, with very prompt service from the local property manager. A wonderful villa to spend time at during our holiday. Would definitely come back to this wonderful island and property. Thanks again Ben & Claire
We had a fantastic time
We stayed at The View for a week & we had a fantastic time! Even if the photos are great they still doesn't give the villa justice! All 4 rooms are a fab size & well equipped. The living area inside has a fab size kitchen with all you need and a large separate dining area! Outside which I'm guessing you will spend most of your time is totally stunning with loads of sun beds & a dinning area with massive bbq on the side of the villa, and you will never get fed up of looking at the amazing "View" . Also take note of Ben's instructions on the drive to the villa, if you stick to them you will have no problems finding it. adding to that Ben's communication with any issues where sorted straight away(not that we had any major issues apart from getting the football on the Telly)All in all this place is a good 10/10 and you won't be disappointed and we will definitely be back !! Thanks again Ben & Marinela(cleaning Lady)