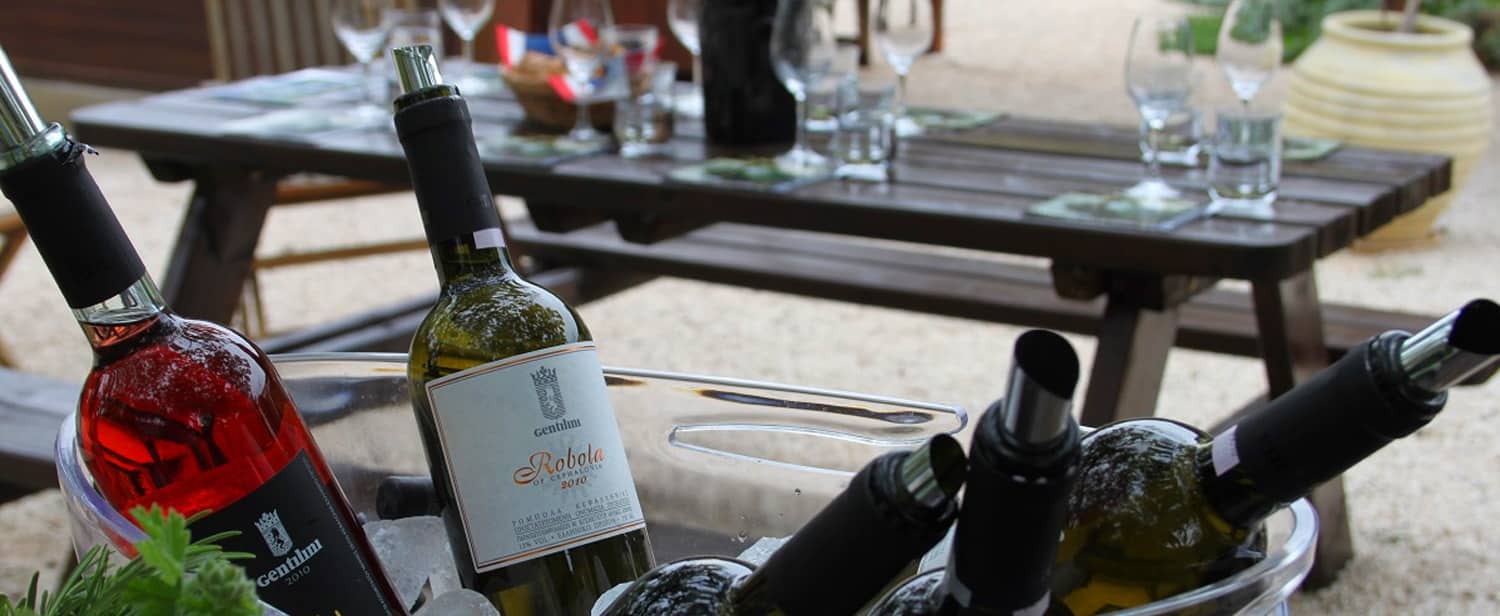 Gentilini Winery & Vineyards
The Gentilini vineyards are located around the winery, near the village of Minies on Kefalonia, and started out in 1978 with just half a hectare under vine. We have since expanded and now farm over ten hectares of vineyards that are planted with Sauvignon Blanc, Moschofilero, Syrah, Muscat and Mavrodaphne. We also manage two vineyards planted with the local Robola and Tsaoussi. The soil is chalky and shallow above a bedrock of limestone, which is the best type of terroir for fine wine making. All of these vineyards are farmed organically and have been fully certified by the DIO agency.
Although the vineyards are close to the sea, they are protected by a hill that slopes down from the cliff top. The proximity to the sea and unusual protection create a unique microclimate ensuring the development of terroir concentrated aromas and finesse in the wines.
The Rare Robola
Experts agree that Robola is one of the finest Greek white varieties, and it is not insignificant that the Greek legislator, seeking to protect this product of exceptional quality within its specific zone, included the grape variety in the name of the geographic PDO Appellation. This is rare in appellation law worldwide.
The grapes grow in tiny, low-yielding vineyards within the high plateau of the Valsamata Valley on the slopes of imposing Mount Ainos whose peak reaches 1,632 meters and dominates the microclimate of the surrounding area. Some of the vineyards are cultivated on slopes so steep that the vines literally emerge from amongst the stones, prompting the Venetians to call the wine "Vino di Sasso" – wine of stone. The soil is limestone and the altitude ensures cooler winters and later budding in spring. It is this terroir that gives the potential for wines of exceptional quality which are characterised by delicate citrus and mineral aromas, balanced acidity and medium body with a long aftertaste.
THE BEST METHODS
All vinification and bottling is done at the Gentilini winery. Just as in the vineyards we are careful not to impact the environment negatively, and in 2011 we received our ISO 14001 certification for our Environmental Management System. Our boutique winery is small, but well equipped, and our barrels come from the best cooperage houses of Europe. This allows us to produce delicious wines of great finesse for the enjoyment of wine aficionados the world over.
THE STUNNING WINES
Our talented team makes sure that each variety is picked at peak ripeness and that only top quality grapes are gently pressed. The wine is handcrafted with the utmost care to ensure that the character of each variety shines through. The wines that are aged in barrel are carefully monitored to ensure a perfect balance and integration of oak. Each wine is unique, exciting, impressive, complex and delightful. Sure to complement all your favourite dishes.